Making your solar projects a reality
From rooftop and floating PV to ground-mounted and hybrid projects – we can deliver!
BayWa r.e. has international experience when it comes to making solar power projects a reality, with a track record in large-scale rooftop, open space and water-based systems.
We also specialise in hybrid plants and energy solutions for industry and commerce, offering a full service from project acquisition and development right through to commercial operation and technical management.
The project management journey
BayWa r.e. purchases project rights at all stages of development.
In just 10 years, BayWa r.e. has become the market leader in the development of solar projects, with experience gained around the world. Our focus on customer relationships, fair dealings and quality has helped earn us an enviable reputation for delivering at all stages of a project – from site analysis and planning approvals to design, build and operation.
We pride ourselves on having local teams with the right regional knowledge and understanding to work with you on the ground.
Our project development services
Site analysis and evaluation
Greenfield project development
Yield simulations
Preparation and completion of approval application documents
Approval planning
Support during the approval process
System planning (electrics and panel utilisation planning)
Development and installation planning
Collaborations with local developers and planners
Acquisition of project rights at any development stage
Assistance with regional cooperative projects
Utility-scale turnkey solar parks
Let us help you plan your project from start to finish
We understand the route to market for large-scale ground-mounted solar parks, and our experienced project managers will ensure your project is designed, built and installed to the highest quality. You'll benefit from the way we build relationships with all stakeholders – from municipalities and planners through to landowners and government bodies – and from the solid, established financial standing of our parent company, BayWa AG.
Our partnership approach, where we work alongside you every step of the way, can continue after the solar park is up and running. You may wish us to manage and operate the park on your behalf, negotiate sale of the electricity generated or to sell the project on. We can ensure maximum plant running life and yields, collaborate with power purchasers, or help seal the best deal for your sale. Whatever your requirements, we can help you.
Seeking to sell project rights or looking for a finance partner?
You may wish to sell project rights, or perhaps are seeking a strong partner to finance your development through to the installation stage. BayWa r.e. acquires the rights to projects in all development stages and we can provide ongoing support if this is required.
If projects are to be secured on the basis of tenders, then we can help with these, calling on our world-leading experience and strong financial experience.
Unlock the solar energy generation potential for your land
Earn income by selling or leasing your land to us
Perhaps you own land that's lying unused, such as fallow fields or disused military sites. Why not view these locations with new eyes and explore the potential for a solar installation? We can help develop these sites, leasing the land from you and enabling you to generate a rental income stream from any development we build.
Or you may own unused artificial bodies of water such as sand or gravel pits – again, these can be leased to us for building floating PV installations, providing you with a risk-free income stream. Floating solar panel systems such as these can be instrumental in reducing pressure on land that would be better used for residential or commercial development. And both solutions could help you contribute towards Korea's renewable energy targets and the energy transition.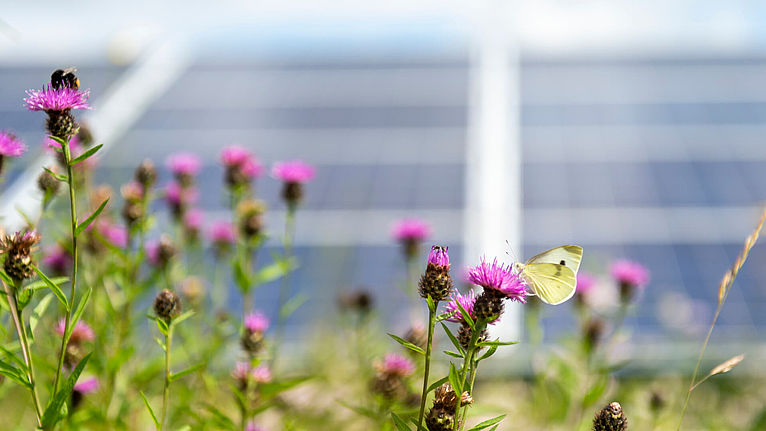 Our leasing contracts run for a minimum of 20 years, giving you peace of mind and confidence that the site will generate income for you over a long period, with no investment required from you. Alternatively, we can purchase the land or body of water from you, helping you to benefit from a high margin and release money from your underused assets.
Whichever you choose, the risk is entirely ours, and we will manage everything from project development through to commissioning and maintenance.
Land Requirements

We are interested in:

All land with a minimum size of around one hectare
Site with enough setbacks designated by local municipality's ordinances
Impervious surface areas and land ready for redevelopment
Cropland in areas with poor soil
Former industrial sites
Sites which have a little shade

Why rent out your land?

Lease your land and benefit from a fixed rental for at least 20 years. Earn an additional income if you agree to care for the land as a service provider.

From the initial rental agreement through to the planning, building and commissioning the site, we'll deal with everything.

Why consider selling your land?

If you sell to us, you're guaranteed a high margin. You will earn additional income as a service provider if you agree to look after the land.

From the sale agreement to the planning, installation and commissioning of the system and its maintenance, we'll look after everything.
A tailor-made renewable project
There are many drivers for companies to act sustainably – from climate reduction targets and operation costs through to shareholder and public pressure. Increasing energy prices and legal obligations are also factors that must be considered. We can help industrial and commercial customers, both local and those with a multinational footprint, to identify and realise projects that take all these issues into account.
This might be by developing a project where you are able to generate on-site electricity that matches your operation's consumption, or by identifying storage solutions that enable you to maximise the demand curve, for example, by peak shaving.
We're experienced in these and other concepts and are well placed to navigate the technical, commercial and legal complexities that often accompany such projects.
Talk to us and we can help you work out which solution is best for you.