The perfect matched solution for your wind project
It's important to us that wind energy is accessible to as many people as possible. That means working closely with customers – whether you are from local government, a private company or a landowner – to make sure we can create a tailored project that works for you, and the specifics of your desired site location.
We make sure you're equipped with all the information and access to expertise that's needed to enable you to make the right decisions for your developments.
Well versed in wind energy
Across the world, we've already helped deliver more than 129 wind power projects, totalling 2.2 GW, so we know what we're talking about when it comes to wind energy. We can bring our expertise, reliability, and innovations to bear on your project here in Korea. From idea inception through to handover of a turnkey operation, we'll be with you each step of the way, calling on our experience of working with municipalities, government organisations and landowners to ensure your project is a success.
Access to in-house expertise in both technological and commercial fields means you can have confidence in all aspects of wind farm operation.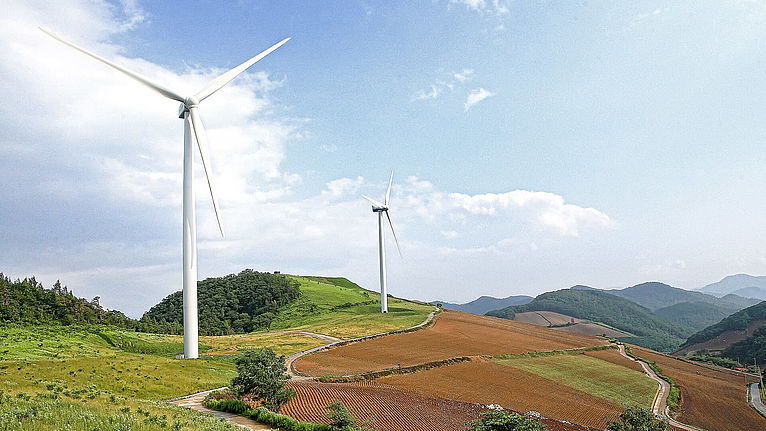 Unravelling the complexities
Land issues, regulatory requirements and energy policy frameworks can be complex and challenging for would-be developers and operators. BayWa r.e. understands the nuances of the local area and is experienced in translating even the most complicated regulations, working out what these might mean for your project, and helping plan a way forward.
Financing your project
Whether you need help to identify the most commercially viable project or access funding, we have the expertise you need. An ideal partner for all aspects of financing, we can help you with backing via our parent company BayWa AG's solid financial platform.
We will help you identify the best financing route for your needs, so you can be sure your wind project is built on a secure foundation.
Offshore wind: partner with us to deliver world-class projects
Korea aims to be one of the world's top five offshore wind energy powerhouses by 2030. We plan to use our expertise to help the nation achieve its green goals.
We'll apply our global high-quality commercial-scale onshore wind project expertise to this new market, which offers significant potential for investors, developers and operators.
Working closely with experienced partners, our aim is to deliver the highest quality offshore wind projects.
Partner with us
We'll take the time to understand your project and your goals and listen to your concerns and questions. Once we've taken everything into account, we'll be able to make you an offer that's tailored to your precise needs. If you are a project developer, a local government officer, an investor, or a landowner, why not come and talk to us about how we can help you realise your renewable energy ideas.
You can rely on us for a considered, thoughtful, clear, quality response.
Turnkey construction of a wind farm